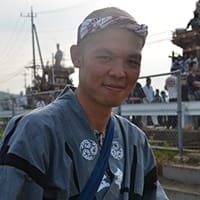 In this article, I would like to ask Mr. Kusunoki, President of KUSKA, a company that produces 100% silk neckties by hand-weaving and hand-sewing in Tango, Kyoto, a famous silk production area, to tell us how he came to make all handmade neckties and the appeal of his products.
What is KUSKA?
KUSKA is a new brand launched in 2010 by a long-established textile manufacturer with 85 years of history in Tango, Kyoto, a famous silk weaving region.
In September 2020, KUSKA will open its flagship store, "KUSKA & THE TANGO", in "Hibiya OKUROJI", Chiyoda-ku, Tokyo and its development has been remarkable, attracting much attention.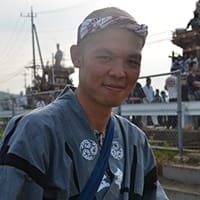 Mr. Kusunoki, thank you for coming today! Tango, Kyoto, where KUSKA is based, has long been one of the top silk fabric production areas in Japan. Why has the production of silk fabrics been flourishing in Tango since ancient times?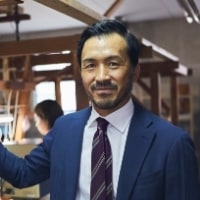 The Tango region is blessed with nature such as the sea and mountains, and is characterized by a lot of rain and snow due to the "Uranishi" monsoon that blows from autumn to winter. This climate is well suited for working with silk threads, and the region has flourished as a silk weaving center since the Edo period.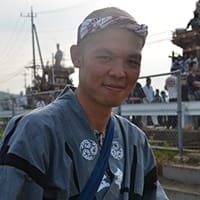 What is "Tango Chirimen"?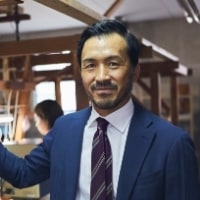 It has been widely used as a fabric for kimonos because of its characteristic fine unevenness called "shibo", good coloration when dyed, and resistance to wrinkling. Production peaked in the first half of the 1970s, but due to factors such as the shift away from kimonos as lifestyles changed and the importation of cheaper fabrics from overseas, over the next 40 years, production declined rapidly to 3% of its peak level.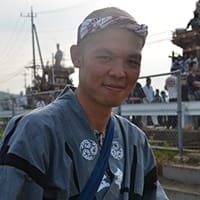 Against this background, how did the KUSKA brand come into being?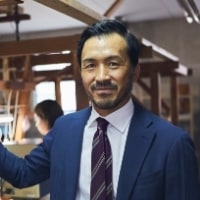 In order to change the shrinking sales scale of the textile industry, I felt that a major change in direction was necessary. I focused on the "warmth" and "texture" that only hand-woven products can offer, and at the same time as I became the third president of the company in 2008, I discarded all the machine looms we had been using. At that time, we made a complete shift to hand-woven products. In 2010, KUSKA was born as a brand based on the concept of "modern lifestyle using old weaving techniques".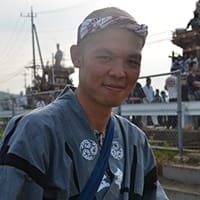 Abandoning all the machine looms, that's a bold change of direction! How did you raise the brand's recognition?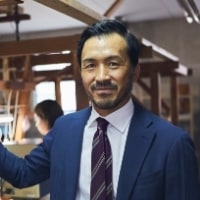 As we continued to improve our products, we gradually gained recognition by highlighting the story of being handmade by artisans. In 2012, we launched a 20th anniversary collaboration necktie with United Arrows (a famous fashion boutique in Japan), and also won the Kyoto Design Award, which was a major factor in raising our profile. Since 2017, we have also been participating in overseas exhibitions.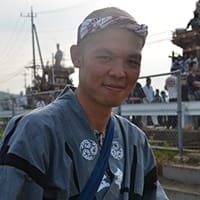 How is the response overseas?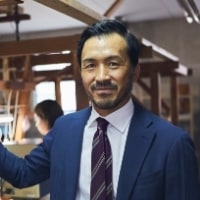 Because a brand that only produces hand-woven fabrics is rare even overseas, we often receive a lot of interest in the hand-woven fabrics themselves. We have received comments from buyers in Italy and England that they have never seen such beautiful fabrics. We were also blessed with the opportunity to have the fabric endorsed by Huntsman, a men's clothing store of the British Royal Family, and to have KUSKA ties sold in their stores.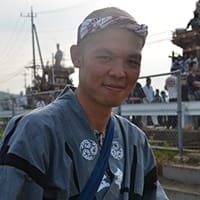 That's a remarkable development in an industry that's in steep decline!
What is the appeal of hand-woven neckties?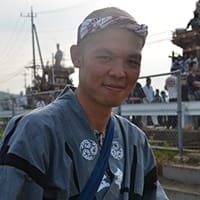 What is the production volume of your main product, hand-woven neckties, for all your products?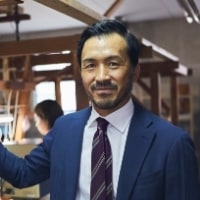 Currently, ties account for about 80% of our total sales. After Corona, we are also working on making hand-woven masks.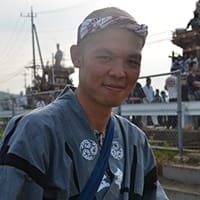 When I actually touch a KUSKA necktie, I feel the thickness and three-dimensionality. What are the differences between hand-woven ties compared to machine-woven ones?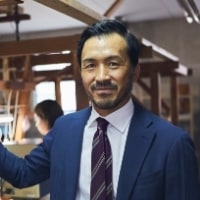 In the case of hand weaving, craftsman weave gently and slowly, letting in air. The "Karami-Ori" weaving method enables us to achieve a three-dimensional, shadowy finish, so you can fully enjoy the "weight" and "luster" that only silk can provide.  Because the work is done with such care, the length of hand-woven fabric that one craftsman can weave in a day is only the equivalent of two or three neckties.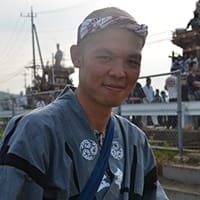 That's very rare compared to what a machine can produce! What kind of response have you actually received from customers who have used your products?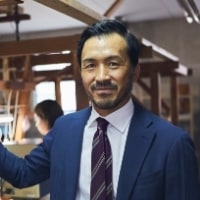 Since the fabric is not smooth, we have received favorable comments such as "The tightening sensation is comfortable". "The shading of the fabric itself makes for a beautiful appearance when worn".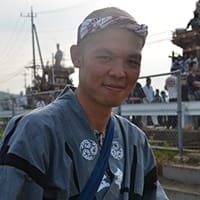 Do you have many repeat customers?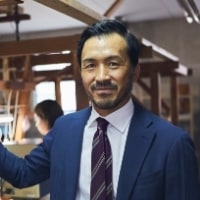 That's right. Many people say to me, "Once I wear a KUSKA tie, I can't buy any other brand.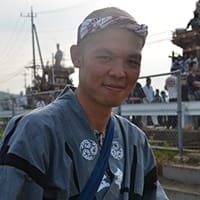 You have developed a variety of designs, but the unique texture of the Tango Jacquard tie is particularly impressive.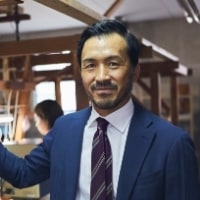 Since it is not possible to produce this kind of expression with machine weaving, I would like you to enjoy the "flowing, elegant weave pattern" that only hand-woven jacquard weaving can produce. The "Tango Blue" jacquard tie, which is inspired by the blue sea of Tango, is very popular and is in short supply.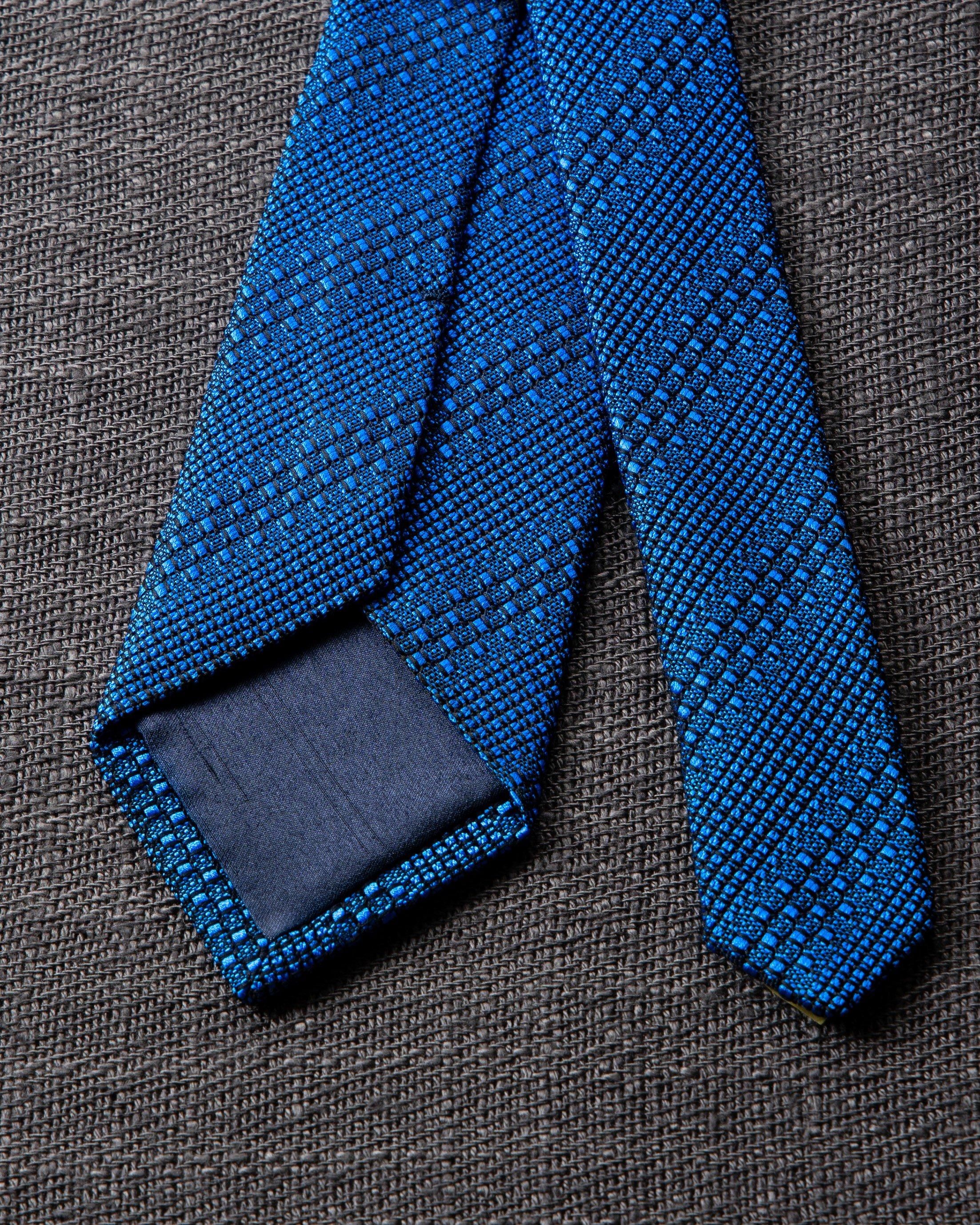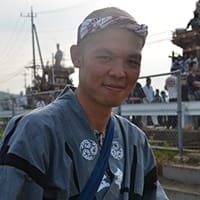 They come in monochromatic colors that are easy to use, so they'll match people of all ages!
Why do we insist on ALL HAND MADE IN TANGO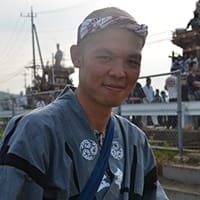 The mention of "ALL HAND MADE IN TANGO" on the tag is impressive, but is there a reason why it is marked in this way?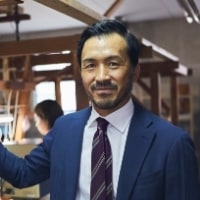 KUSKA is committed to doing everything in Tango, from making yarn to dyeing, hand weaving, and completing the product.
In the process of making silk products, there are various processes such as refining and dyeing to remove unnecessary materials, and in Tango, there are specialists with high skills in each process.
In addition, while people tend to focus on the south when talking about Kyoto, Tango, on the Sea of Japan side, has the sea and is also a very attractive region in terms of nature and food. As a consistent effort to communicate "Tango" to the world and revitalize the region, we have written "ALL HAND MADE IN TANGO" instead of "KYOTO" or "JAPAN".
What is "modernizing traditional crafts"?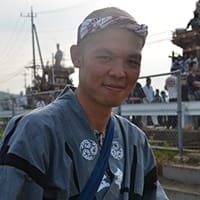 What exactly do you mean when you say, "KUSKA's mission is to modernize traditional crafts"?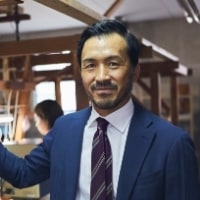 What exactly do you mean when you say, "KUSKA's mission is to modernize traditional crafts"?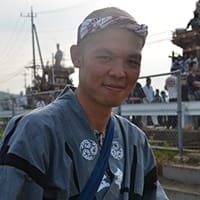 Products that match modern life while utilizing the traditional techniques of Tango. It's very appealing! I want to get my hands on a KUSKA tie as soon as possible.
All handmade luxury ties.


Once you finish it, you'll be hooked!
This 100% silk tie is hand woven and hand sewn, which is rare in the world. The unique weave pattern, the softness like a knit tie, and the luster of the silk created by the three-dimensional effect of hand weaving decorate the chest in an impressive way. The quality of these ties has been recognized by the British royal tailors and is highly evaluated worldwide.
To avoid stressing the silk, it is woven by hand, slowly letting the air in.
KUSKA
KUSKA Garza Tie
SHOP NOW
Afterword
KUSKA is a brand that has enhanced its uniqueness by daring to give up efficient machine weaving in favor of hand weaving, and its all handmade neckties are filled with high technology backed by tradition and a desire to revitalize the textile industry and local industry. These ties not only give the wearer special elegance and confidence, but are also a valuable way to connect Japan's traditional crafts to the future.
Related articles:
▶ 7 Japanese Accessories for Any Outfit and Occasion
▶ You can fit almost everything! Compact Wallets
▶ The Complete Guide to Traditional Japanese Crafts
If you want to give feedback on any of our articles, you have an idea that you'd really like to see come to life, or you just have a question on Japan, hit us up on our Facebook, Twitter, or Instagram!
*These products may not be able to be shipped to certain countries. Please see the retailer's website for more information.
The information in this article is accurate at the time of publication.