Have you ever heard of "Kyo Karakami"? It is a beautiful paper that is hand-printed one by one with patterns carved on woodblocks, and used for fusuma paper in historic buildings such as Katsura Rikyu and temples.Nowadays, as a stylish interior decoration, in addition to sliding doors, they're also popular for wallpaper, lighting, art panels, etc.!
In this issue, we asked Mr. Kazunori Nishimura, the representative of Maruni Co., Ltd. who makes Kyo Karakami, to tell us about the charm of Kyo Karakami, the secret of its beauty, and how we can enjoy the traditional Kyo Karakami in our modern lives.
Also appeared in the famous "〇〇 story"! ~ The History of Kyo Karakami

First of all, let me introduce the history of Kyo Karakami.
What is "Karakami" anyway? ~ It all started with the Japanese envoys to China
Karakami is a type of paper that was brought to Japan by envoys from China during the Tang Dynasty, about 1,300 years ago.
When the Japanese envoys to the Tang Dynasty were disbanded, Karakami paper began to be made in Japan.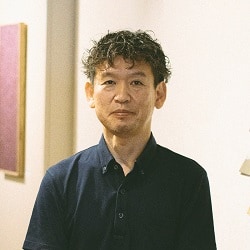 The first state-run paper mill was built on the banks of the Kamiya River, which runs beside the Kitano Tenmangu Shrine in Kyoto.
A favorite of the Murasaki Shikibu? ~ Kyo Karakami, loved by Heian aristocrats
The paper mill was called "Kamiya-in", and the high-quality Karakami paper made there, called "Kamiya paper," was highly prized by the aristocracy at the Imperial Court, and was used for writing poems and waka poems and for sutra copying.

Kamiya paper is also mentioned in the Tale of Genji!
Eventually, patterns began to appear on karakami paper, which later became the prototype for the Kyo Karakami used for shoji screens and fusuma paintings.
What are the patterns of Karakami? ~ The traditional and historical "Kyoto Karakami" and the free-spirited "Karakami Patterns"

There are so many different types of Karakami patterns!
Karakami is used for fusuma (sliding doors) and shoji (paper sliding doors), so it occupies a large part of the interior design and greatly affects the atmosphere of a room. Therefore, which patterns were preferred varied depending on the role of the room in which it was used, the lifestyle of the person using it, and their social status.
"Kyo Karakami", an elegant traditional design favored by Heian nobles.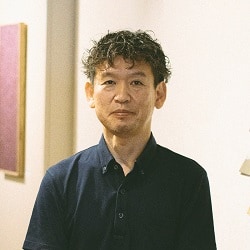 "Kyo Karakami" has many orthodox and traditional patterns.
The patterns of the early days are said to be "Yusoku-monyo", a refined impression of the elegance of Heian aristocratic culture added to those introduced from China.
Yusoku-monyo" was used in the costumes and furnishings of the nobility. Kyoto Karakami has many of the traditional features of Yusoku-monyo, such as Kissho-monyo, which expresses congratulations.
Incidentally, large patterns that look good in a large space and patterns that represent clouds were often used as furnishings in temples and shrines.
Full of playfulness! "Karakami pattern", a free design with many plant motifs

The patterns often reflect the tastes of the times.
For example, stiffness and designs that symbolize status and authority were favored in the samurai era.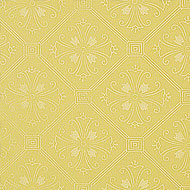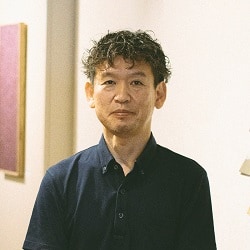 In the Edo period (1603-1868), as the culture of the common people developed, Karakami, which was favored by the masses, began to feature more free and open designs.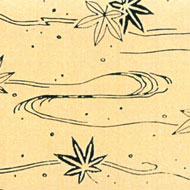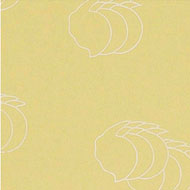 There are also many patterns of plants.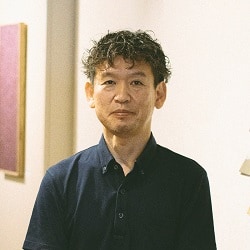 Yes. In the world of the tea ceremony, the unique Japanese sense of beauty called "wabi" was pursued, and plant patterns, especially paulownia patterns, were favored. It seems that the common people of the Edo period were also influenced by this preference for the tea ceremony.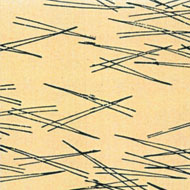 Some of these designs are so stylish, they're almost like graphic art!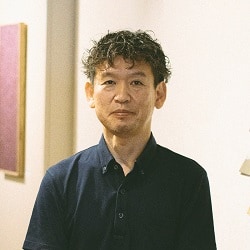 Patterns in the Edo period were influenced by the "Rimpa school of art". This was a school created by Honami Koetsu, Ogata Korin and Tawaraya Sotatsu, who pursued the possibilities of expression in design.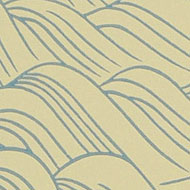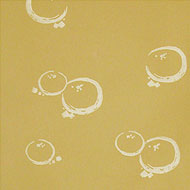 It's interesting to see how the patterns reveal the atmosphere of the era!
This is the way to demonstrate traditional skills! Materials and tools unique to "Kyo Karakami"
With its long tradition, "Kyo Karakami" continues to be manufactured with the same materials and tools as in the past.
Our commitment to woodblocks: 1) Woodblocks from 180 years ago are still in use!

How many prints do you have?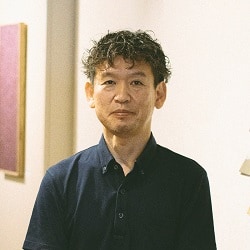 There are more than 300 sheets. Of these, about 150 are in good condition and usable.

Is it something you've used for generations?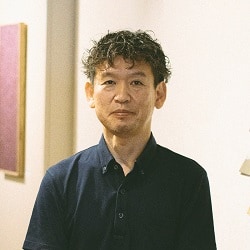 The oldest printing block is about 180 years old, and dates from the 8th year of the Tempo Period.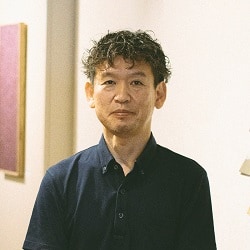 I was using it in service until two or three years ago. The next oldest would be from the 10th or 12th year of the Tempo era. Most of the woodblocks have been used for more than 100 years.

That's amazing! But don't they get damaged as they are used?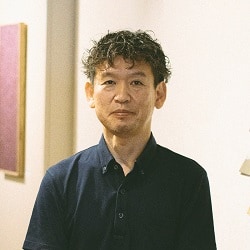 Yes, that's why I reprint old woodblocks and carve new ones a few times a year.
Our commitment to woodblocks: 2) After all, "Magnolia Wood" is the best!
The wood of the magnolia tree is used for the printing block of "Kyo Karakami". .
Kyo Karakami is printed by rubbing with the palm of one's hand, not with a tool, so it is necessary to carve the patterns deeply. For this reason, magnolia wood, which is soft and has few grains, is suitable for karakami woodblocks.
Magnolia Wood.
A deciduous tree of the magnolia family. Some trees reach a height of 30 meters. The leaves, fruits, and flowers are large, and the leaves, called "hooba," are used for wrapping food such as hooba sushi and hooba miso because of their disinfectant properties and pleasant aroma.
As a wood, it is light, soft and easy to process. It is processed into cutting boards, knife handles, shogi pieces, piano keys, woodblocks, clogs, etc.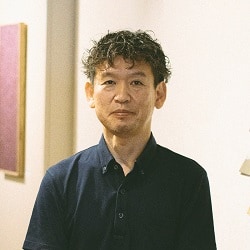 For ordinary prints, hard woods such as cherry or ginkgo are used. This is because the carving of a normal print is shallow, 1 to 2 millimeters.

Is there any other reason why magnolia wood is better?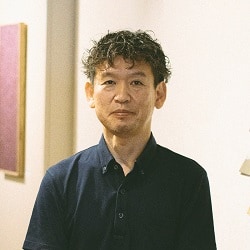 The woodblocks are washed and dried each time they are printed, so they are resistant to bending and decay even after many years of use.

Being in service for so many years, do you take care to preserve it as well?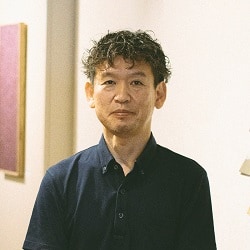 Dryness is the enemy of woodblocks, so we use a humidifier to keep the humidity constant. Also, we store the woodblocks so that they do not overlap with each other.

It's because of the meticulous care taken by generations of artisans that the woodblocks have been able to remain in service for as long as 180 years!
Our commitment to Paper: Echizen Torinoko-gami for sliding doors!

What kind of paper do you use?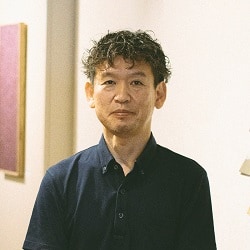 For sliding doors and wallpaper, we use Echizen Torinoko-gami paper produced in Fukui Prefecture.
Echizen Torinoko-gami.
It is handmade washi made in Echizen City, Fukui Prefecture, using a plant called Gampi, a member of the Zingiberaceae family. It has been made since the Nara period (710-794). The name "Toriniko" comes from the fact that its slightly yellowish color resembles the color of eggshells.
It is glossy, strong, and resistant to insects. Since the Meiji era (1868-1912), it has been widely used to make paper for sliding doors.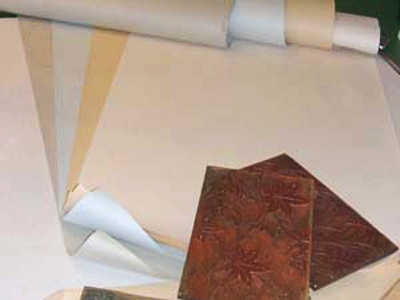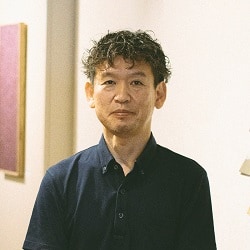 Because it is strong and has been used for centuries.Cold water is good for papermaking, and I believe that good paper is made in Echizen, where paper is made with water from melting snow.
Our commitment to Paints - Creating light with the glow of mica (kira)
Pigments (iwa-enogu) are used for the pigments used in the printing of karakami. The pigments are mixed with "funori", which is used as an adhesive, and "mica", which adds luster.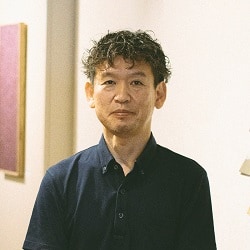 Funori is a glue made by boiling down dried seaweed. Normally, glue is used as an adhesive for prints, but it is animal-based and can damage the woodblock, so funori is used for karakami because it dissolves easily in water and is easy on the woodblock. .

Since it is sticky like porridge, it seems to burn easily.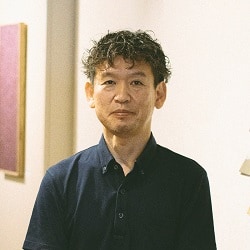 That's right. We have to be careful not to burn it, and we have to change the amount of water depending on the weather and paper quality, so the craftsman's intuition is very important.

It takes a skilled hand, doesn't it! By the way, what is mica (kira)?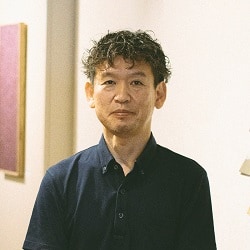 Crushed granite gives a pearl-like sheen. In the case of karakami, mica is used to make it shine, and gofun is used to make it matte. Gofun is made by baking and crushing clam shells.

Kira" has a nice ring to it! In Japan, the twinkling of stars is described as Kirakira, and as the name suggests, it glitters.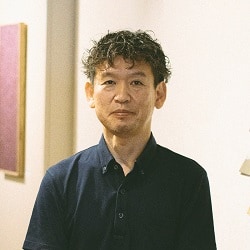 The light is very important. In the old days, the rocks were crushed by hand, so the particles were sparse and shone with diffuse reflection.

In the light of candles and the moon, it must have had a different atmosphere than now.
Our commitment to Sieve (Furui) ~ a unique tool used in karakami that is gentle on woodblocks

What is this tool that looks like a pot lid?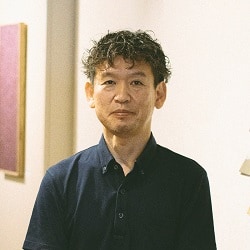 Sieve (Furui) is a tool unique to karakami. It is a frame made of long, thin sheets of cedar rolled up and covered with cold gauze or gauze, and is used for transferring paint to the printing block.

Using a sieve covered with a soft cloth, the woodblock will last longer without being damaged! I can feel the careful attention to craftsmanship everywhere!
How Karakami is Made: Careful Handwork with a Heart for Each Process
Now let me introduce the process of making karakami.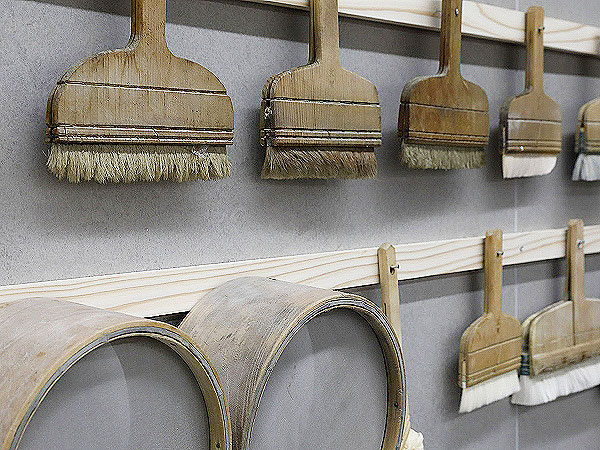 The process of making karakami
(1)Boil Funori (for one day and one night so as not to burn it).
(2) Strain Funori and mix with pigments, mica, and powder in a mortar.
(3) Transfer the color to a sieve with a brush.
(4) Apply the color to the woodblock with the sieve.
(5) Place the paper on the woodblock. (For fusuma size, replace the printing block 12 times.)
(6) Print with the palm of the hand (This produces a slightly uneven, fluffy, three-dimensional texture.)
(7) Print the same pattern twice on the same spot (for a fuller texture)
(8)Dry (natural drying)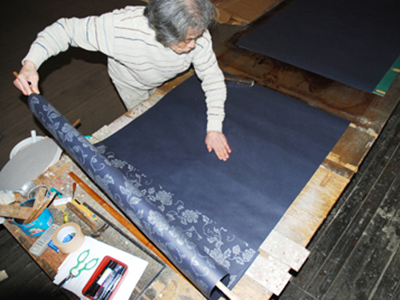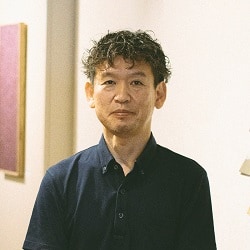 When printing, a bamboo baren is used for ordinary prints, but the characteristic of karakami is that it is rubbed with the palm of the hand in a circular motion.

The charm of karakami is the warmth and elegance that comes from hand-printing each piece of paper.
Bringing Modern Sensibility to Tradition ~ The Challenge of New Karakami
MARUNI's karakami is used in traditional architecture such as temples, ryotei (traditional Japanese restaurants), and inns, as well as in modern architecture such as hotels and restaurants.
"MARUNI Corporation".
Founded in 1902 in Kyoto as "Nishimura Korokudo". They were involved in Japanese decorations such as fusuma (sliding doors) and tableware (folding screens, hanging scrolls, picture frames, etc.). Today, as MARUNI, they are engaged in the wholesale of fusuma (sliding doors), mounting materials, and other interior materials, as well as construction and mounting. They also have their own workshop for "Kyo Karakami", a traditional craft of Kyoto.
Take a look at the official site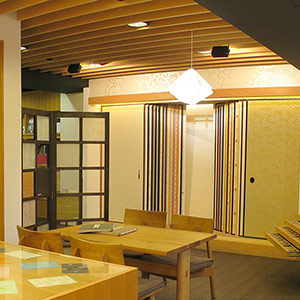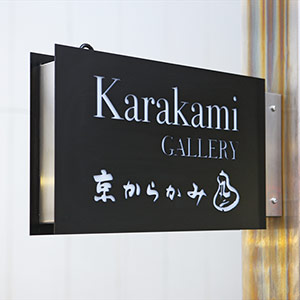 Not just for Japanese-style rooms? Karakami fits into modern lifestyles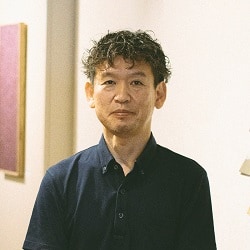 Kyo Karakami was originally used in Japanese-style rooms, and as the number of Japanese-style rooms decreases, so do the opportunities for its use. If there is no demand, tradition will not continue. Therefore, I believe that our mission is to cultivate demand.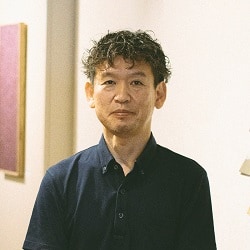 Since it is difficult to use only the old style "Karakami", we are developing something that fits modern lifestyles, for example, something that fits not only Japanese-style rooms but also Western-style rooms, and something that can be used in hotels, restaurants, and overseas.
Metallic brilliance through traditional techniques! ~ Development of "Urushi Karakami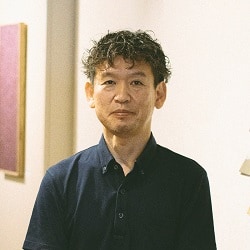 Since there are no sliding doors in Western rooms, we developed a wallpaper called "Urushi Karakami". The idea was to create something strong enough to stand up to Western-style interiors, and we used lacquer, which is also associated with traditional crafts in Kyoto. .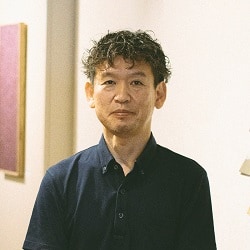 After the patterns are printed on the paper, lacquer is sprayed onto the paper using the Kyoto Buddhist equipment technique. The lacquer repels the paint, so the pattern appears glossy and the lacquer soaks into the paper. .

I love how the pattern appears metallic against the solidly colored background!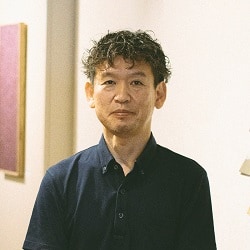 Since it is wallpaper, it has to be non-combustible and certified as a fireproof material by the government. It was a trial and error process, and it took about three years to develop.
Woodblocks for interior design? ~The Ritz-Carlton, Kyoto

In addition to famous inns and ryotei (Japanese-style restaurants) such as Hiiragiya Honkan and Kitaoji Saryo, the Ritz-Carlton Kyoto also uses MARUNI's karakami!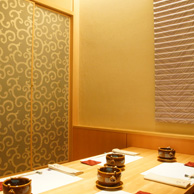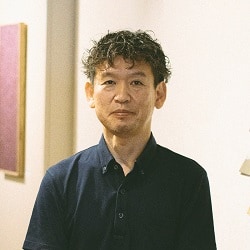 The Ritz-Carlton Kyoto actually offers Karakami woodblocks as interior decorations instead of paper.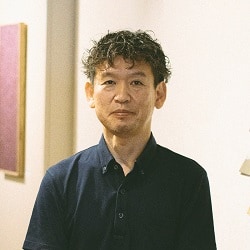 Yes. One day, a person from a foreign hotel came to our showroom, and I thought he needed wallpaper, but he was standing still in front of the woodblock.

The woodblocks themselves have a certain charm, don't they?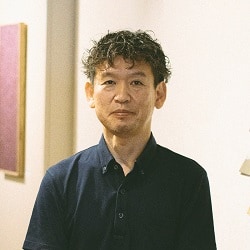 That's right. The woodblock prints have a wonderful atmosphere, so we wanted to use them for interior design. For us, it was a completely new idea that was "eye-opening".

Did you use woodblocks for the interior of the rooms?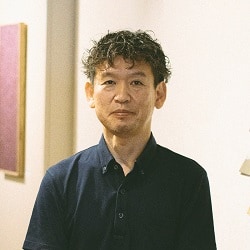 No, at first they wanted to have them in all the guest rooms, but it was impossible due to budget constraints because of the huge number of them, so we made the woodblocks on the ceiling of the banquet hall in the main hall as interior decorations.
Identity as "Karakami

I love the woodblock ceiling, it's so powerful!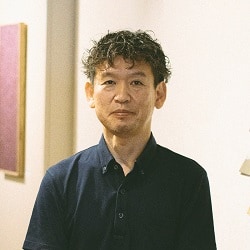 We are now putting a lot of effort into making the woodblocks themselves into interior decorations, especially for foreign countries and hotels.

Is it difficult to hand-carve such a large piece?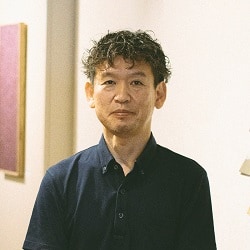 Yes. The traditional hand-printed "Kyo Karakami" series are engraved by hand when the woodblocks are reprinted, but when we design and create new patterns for new products, we incorporate data into the computer and engrave them with a laser.

You can engrave with a laser!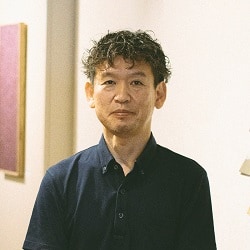 Yes. Thanks to this, we are now able to use patterns created by overseas designers as printing blocks.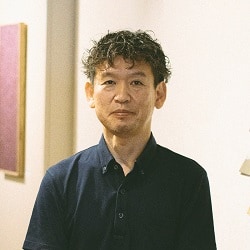 However, if we convert the data into a format, there is a risk that only the patterns and designs will walk alone. I think that the tradition of karakami includes not only the patterns, but also the fact that each piece is hand-printed by craftsmen, so I am careful to draw a line when developing new products.
MARUNI's Challenge: Passing on "Kyoto Karakami" to the Future!
What is the meaning of manufacturing in Kyoto?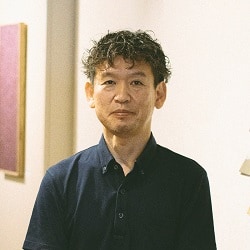 Because Kyoto has traditionally been a place where products are made in a variety of fields, there are many craftsmen. This makes it easy to develop products without having to worry about what to make.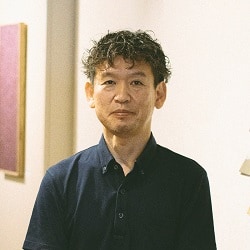 Even so, there is a serious shortage of successors, and it is certain that the culture of craftsmanship is declining. If there is no need for it, there will be no work, so I would like to cultivate demand and promote not only karakami but other traditional crafts as well.
To pass on "Kyo Karakami" to the future - I want people to know the charm of "Karakami" first!

What kind of activities do you plan to do in the future to pass on "Kyo Karakami" to the future?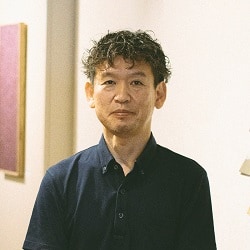 Unlike other traditional crafts, I don't think many people know about karakami. That's why I would like to first of all make people aware of karakami.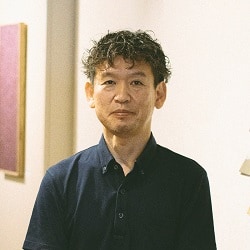 I would be very happy if you could incorporate karakami into your lifestyle as something familiar.

There's a lot of art panels, lighting, etc. out there that can be easily incorporated!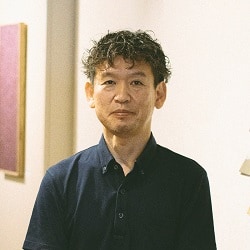 I think the entry point can come from anywhere. I also hope that people in Japan and abroad will learn more and more about the appeal of karakami.
In addition to sliding doors and wallpaper, MARUNI also produces a variety of modern interior goods such as pendant lights and art panels.
Stylish Kyo Karakami Art Panels


Just one piece will give your room a stylish look!
The traditional pattern "Seigaiha" is arranged as a wall-hanging art panel.
You can enjoy the tradition of Kyo Karakami as a modern interior design!
MARUNI
[Artpanel] Karakami wall panel Seikaiha | Kyo Karakami
SHOP NOW
Stylish paper lanterns made of Kyo Karakami


Modern paper lanterns suitable for both Japanese and Western rooms
Matsu-Karakusa, a traditional pattern with a modern feel, has been arranged into a modern paper lantern!
The pedestal is also stylish, making it an excellent choice for both Japanese and Western rooms! The gentle light of the Japanese paper is soothing.
MARUNI
[Lighting] Paper Lantern Matsukarakusa | Kyo Karakami
SHOP NOW
Simple modern pendant light made of Kyo Karakami


Stylize your room with sophisticated design.
The paisley-like traditional pattern "Ookumo" is perfect for modern interiors!
This pendant light has a timelessly stylish design with the warmth of handwork. It is a stylish product that is a good mix of traditional and modern!
MARUNI
[Lighting] KARA-IRO Ookumo | Kyo Karakami
SHOP NOW
Elegant Chidori Fans from Kyo Karakami


Kissho-monyou fans that can also be used for interior decoration
With its unique shape, Chidori Uchiwa can be enjoyed as an interior decoration.
The elegant phoenix and butterfly arabesque patterns are printed on the beautifully curved uchiwa. With its elegant impression, it would look great displayed in a room as an interior decoration!
MARUNI
[Hand Fan] Chidori Uchiwa Phoenix & Butterfly | Kyo Karakami
SHOP NOW
Feel like a craftsman using woodblocks! ~ Experience the making of Karakami
You might even be able to use woodblocks that are over 120 years old! Making "Karakami" at the hands-on workshop
The MARUNI gift store has a hands-on workshop where you can try your hand at "karakami" paper making.
Karamaru" is MARUNI's gift store and hands-on workshop with the theme of "knowing," "experiencing," and "enjoying" Kyo Karakami. The second floor is a workshop where artisans make products.
Click here for the experience workshop site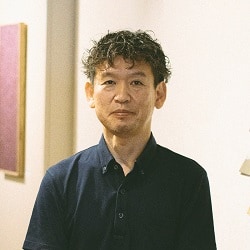 At the workshop, you can experience the same process of making karakami by choosing the woodblock, paper, and color, and then printing it yourself.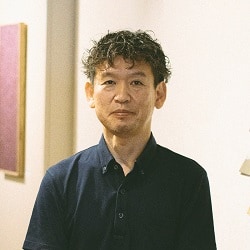 The postcards can be made in a short time, and the art panels in an hour and a half to two hours, and you can take them home that day. You can even use woodblocks that are over 120 years old!

Amazing!Sounds nerve-wracking, but I could really experience the feel of those historic woodblocks!
Make Karakami at Home! Easy-to-use Karakami Experience Kit
If you can't make it to the MARUNI workshop, there is also a "Karakami Experience Kit" that allows you to try making Karakami at home!
Kirare, a kit for making Karakami


A set of woodblocks, paints, and paper makes it easy to try.
A kit that makes it easy for you to try your hand at making karakami.
In addition to the traditional woodblocks, the book also includes funori, mica, and postcard paper, so you can start making karakami right away!
MARUNI
[Hands-on Kit] KIRARE Seikaiha | Kyo Karakami
SHOP NOW
More authentic "Karakami" experience kit "karakami kit


Set with magnolia woodblocks and mortar
Perfect for those who want to enjoy making Karakami with more authentic tools!
With the magnolia woodblocks used by the artisans and the mortar used to mix the paints, you'll feel like a master at making karakami!
MARUNI
[Hands-on Kit] Karakami kit Four seasons | Kyo Karakami
SHOP NOW
A stamp set for enjoying Karakami patterns.


Stamp of "Karakami" pattern of the four seasons and signature (name)
This is a set of stamps that allows you to easily enjoy Karakami patterns based on the themes of the four seasons.
It also comes with a name stamp, which makes it a great gift!
MARUNI
[Hands-on Kit] Karakami kit Four seasons A Original signed | Kyo Karakami
SHOP NOW
For those who use Karakami - Make Karakami feel familiar and incorporate it into your daily life.
Finally, MARUNI gave us a message for those who use karakami.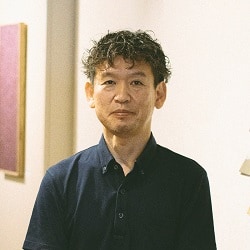 In the hands-on workshop and the hands-on kit, go back to your childhood and have some mindless fun!

Having fun is important, isn't it!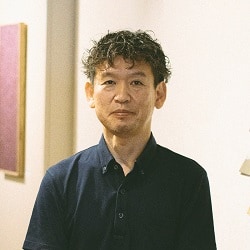 Yes! If the experience leaves a lasting impression on your memory, you will be able to find it when you visit temples and other places. I think you will be able to find it. .

I'll keep my eyes out for it next time I'm in Kyoto visiting temples!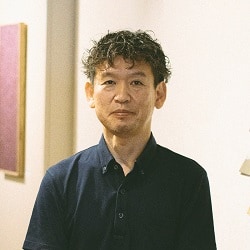 Please do! We hope that people will not feel self-conscious about the fact that it is a traditional craft, but rather feel it as something familiar with a traditional backbone, and from there incorporate "Karakami" into their daily lives.
Summary
When I heard that "most of the woodblocks have been used for more than 100 years," I felt that MARUNI has inherited the depth of the tradition of Kyo Karakami and the thoughts of their predecessors who have carefully handled the tools and put their hearts into printing karakami for generations.
While preserving tradition, MARUNI continues to take on various challenges so that it can be passed on to the next generation and so that karakami can be a familiar part of modern lifestyles.
I'll be keeping a close eye on their future endeavors!
Related articles:
▶ A Guide to the Traditional Japanese Craft: Kyo-Sensu Fans
▶ 8 Modern Japanese Lighting Fixtures That Will Brighten Up Your Home
▶ The Complete Guide to Traditional Japanese Crafts
If you want to give feedback on any of our articles, you have an idea that you'd really like to see come to life, or you just have a question on Japan, hit us up on our Facebook, Twitter, or Instagram!
*These products may not be able to be shipped to certain countries. Please see the retailer's website for more information.
The information in this article is accurate at the time of publication.